DESCRIPTION
The Original Can Lite Carbon Filter is a basic carbon filter designed to purify the air and combat unwanted smell in growing rooms and others.
small cultivation rooms, store rooms, bars, kitchens, sanitary rooms, etc.
The manufacturer''s many years of experience have resulted in the development of LITE VIRGIN ACTIVATED CARBON active carbon. It is designed for long-term operation in ventilation systems with high performance parameters. The active carbon formation process itself meets the grain size requirements and their physicochemical characteristics.
The Can Lite activated carbon is created in exactly the same way as in the Can Filter line.
The only difference is in the lower density of activated carbon used.
Can Lite works optimally from 12 to 18 months . In fact, it is very dependent on the fan adapted to it and the diameter of the ventilation system ducts. The carbon filter retains its service life if the fan used guarantees a constant pressure and when the diameter of the ventilation system channels is not smaller than the flange of the selected Can Lite carbon filter.
The Can Lite carbon filter installation is quick and easy.
SPECIFICATION
Diameter of filter connection flange: Ø 250 
Filter diameter: Ø 30 cm 
Material: steel 
Activated carbon: LITE VIRGIN ACTIVATED CARBON 
Height: 75 cm 
Weight: 15.5 kg 
Weight of active carbon: 7.6 kg 
Width active carbon layer: 5 cm 
Maximum performance filter: 1650 m³ / h 
Optimal filter performance: 1500 m³ / h. 
Lifetime: optimally working from 12 to 18 months
Comes with a pre-filter. 
Originally packed in a cardboard box.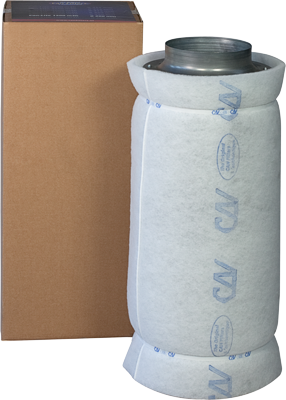 Flange (mm)

:

250

Maximum filtering (m3 / h)

:

1650

Does it require an additional connection

:

no