DESCRIPTION
BoostEuro Co2 generator with pump and distribution hose
- READY TO USE WITHOUT ADDITIONAL COSTS 
- Safe, Quiet, 100% Ecological - 
designed for growing plants in enclosed spaces (boxes, greenhouses, etc.) - 
conveniently easy to assemble, almost maintenance-free -
dimensions : fi23cm, h21-27cm, 230V power supply

- Operating time up to 90 days , distribution to plants using hoses or a blowing fan - 
supported cultivation area: up to 16 m2 With a room below 2x2x2m use Timer to reduce Co2 emissions - 
exchangeable cartridges for purchase in our store The generator can work 24 hours / day or you can connect it via a timer!
The additional Co2 emission is extremely beneficial for plants, its operation can be compared to the best Boosters, Co2 is an essential component of the photosynthesis process. The amount of Co2 has a powerful impact on the quality, size and speed of the plant development. Supported cultivation area up to 16m2. Below 4m2 (inclusive), the device should be cycled by clasping the device under a cyclic switch or Timer Timer to reduce Co2 emissions.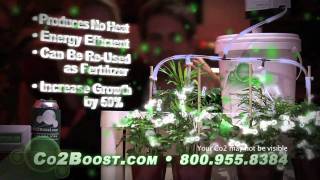 duration of work co2 (week)

:

12

Max area (m²)

:

16