DESCRIPTION
Radial fan of the well-known Dutch company CAN-FAN

It is perfect for rooms where high efficiency of the fan and quiet float are required. Adapted to continuous operation. It is characterized by very high failure-free. It is equipped with a thermal switch that switches off the engine when it reaches a dangerous operating temperature. The engine along with the project made in Switzerland. The propeller is designed to provide a strong airflow while reducing noise levels.
SPECIFICATION
Connections: Ø 250mm
Efficiency: 830 m³ / h
Power supply: 230 V, 50 Hz
Power: 100w
High static pressure. Made of ABS plastic durable. Prepared for continuous work.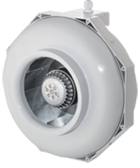 power (W)

:

100

Flange (mm)

:

250

Airflow regulation

:

no

temperature regulation

:

no

Maximum fan performance (m3 / h)

:

830