DESCRIPTION
Radial fan of the well-known Dutch company CAN-FAN.

Perfectly suited for rooms where high fan efficiency and quiet float is required. Built-in 4-step fan speed control. Due to the very low energy consumption and low noise level, it is ideal for small cultivation rooms, store rooms, bars, kitchens, sanitary rooms, etc. Suitable for continuous operation. 

It is characterized by very high failure-free. It is equipped with a thermal switch that switches off the engine when it reaches a dangerous operating temperature. The engine along with the project made in Switzerland. The propeller is designed to provide a strong airflow while reducing noise levels.
SPECIFICATION
Connections: Ø 160mm
Efficiency: 0-810m³ / h
Power supply: 230 V, 50 Hz
Power consumption: 129W / 0.6A
Four-speed speed control
High static pressure. Made of ABS plastic durable. Prepared for continuous work.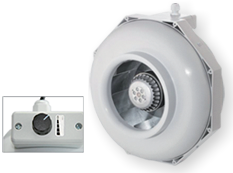 power (W)

:

129

Flange (mm)

:

160

Airflow regulation

:

yes

temperature regulation

:

no

Maximum fan performance (m3 / h)

:

810